By Angela Rowland– January 28, 2013
It has been awhile, my friends, and, I've gotta say, I've kind of missed you!  How've you been?  How's the fam?
I'll admit, while my MonCon experience back in June got me riled up, for a short time, on monsters and the like, the AGOT tournament which preceded the main event for us had me slinking into the corner, ready to toss my Stark deck to the wolves (which is what I practically did in the process of coming in dead last, simply slaughtered by the competition). Last night was, honestly, the first time in nearly eight months I have even desired to bring my old friends, Catelyn, Eddard and Robb out to play – in fact, we'd fallen so far out of touch, I'd all but forgotten their names.
Of course, being a bit rusty, I was wiped across the floor by Mister Baratheon in our first meeting last night (with sympathy, he honestly tried to be sorry – but I wasn't buying it), one round into the second game, after sending Eddard and the Blackfish to the dead pile before they could even get a foothold (ok, granted, good old Stalwart Eddard slid back onto the draw-pile, but my wounds were far from being healed), I called a forfeit and demanded a re-start (though gave Philip the satisfaction of being called the winner as a meager attempt at good sportsmanship).
This is what those three games last night re-taught me – the lesson I feel is hammered home every time we play, the one I've heard Steven re-emphasize with every one of my blogs – the importance of plot choice is not to be underestimated.
See, I walked into last night remembering, vaguely, how important "Family, Duty, Honor" was to my plot deck, so I dutifully pulled it out for the first turn on both of the first two games.  I failed to recognize, though, that each game is different and each plot is in my deck for a specific purpose.  And sometimes it's important to actually strategize, rather than play from rote.  Thus, while my preferred plot works well with my deck, searching for House Tully might actually be more effective if I actually have control of The Blackfish.
Or, out of sheer example, if I do play The Blackfish during set-up because I have nothing in my hand that costs lower than four gold, but I don't want to mulligan because I like all of my high-cost cards, and I'm quaking in my slippers, knowing how key he is to my strategy and, yet, I have nothing out there to defend him or absorb a claim, it might just be a wise option to go with "The Power of Blood" – protecting both he and Eddard (who would be played my first turn), as noble characters, from death.  That might be a solid play.  Otherwise, one might be forfeiting.  Just saying.
Thus, as we entered the third game, keeping this reiterated lesson in mind, I more carefully considered the plots laid before me and went with a new choice, "Respect of the Old Gods" – one I typically save toward the end, when I feel the 2 gold payout will not sting quite so much (disregarding the fact that the ability to lower the cost of my first Stark character by two actually off-sets the lack of gold).  This choice paid off – because when your opponent only has two cards on the table during that opening round, a two-claim military attack carries a much bigger sting.  Particularly when one of those sent swiftly to their doom happens to be Renley Baratheon, whose ability to stand with the kneeling of one influence almost makes him play as three men in one.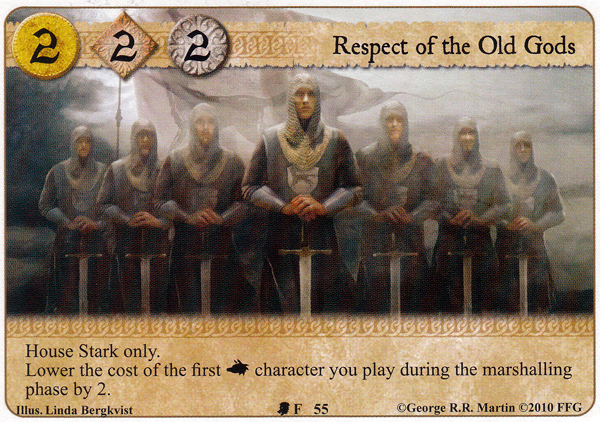 And apparently when one successfully does that, wiping their opponents opening play, with Riverrun and Eddard Stark on the table to reap the benefits of unopposed challenges, someone might easily rack enough power to win by the third round.
And once again, I have learned the hard way – plot like you mean it.