By Angela Rowland– February 20, 2013
I feel all over the place right now – I'm at my fourth post for the year (already, in February, at half of the amount of posts I had written in 2012) and I'm already onto my third game.  What's going on here?!
Truthfully, most of my entering into the Netrunner world was pride.  My husband seemed to feel I might not be able to handle two new games in so short a time.  The fact that he clearly had the mental capacity to jump into both Star Wars and Netrunner in one fell swoop didn't seem much of a counterpoint to him.  Clearly my weak feminine mind (or, perhaps, my lack of LCG experience overall, but why split hairs?) would be much intimidated by the overwhelming amount of new rules and goals associated with two differing asymmetrical games.  Thus, of course, I had to play – if for no other reason than to flex my mental agility in his face.
After three different games, all in which I felt I was floundering, one of which I won by sheer accident (though he tried his best to make me feel as though I had planned an expert strategy, rather than just lucking into my damage-inducing set-up), being pushed to the verge of brain-weary tears more than once, I was beginning to fear I may have to cry uncle and tell him he was welcome to find a new Netrunner partner.  I hated this game.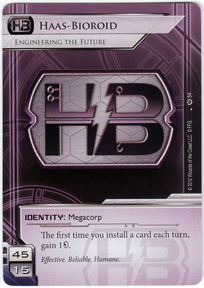 But then Philip suggested I might try a new Corporation.  Haas-Bioroid, he assured me, might be able to tackle the income deficit I continually faced with Jinteki – a crippling poverty-stricken agenda (in my experience, anyway) who struggle to horde enough credits even for ice-rezzing, let alone advancing agendas.  I had been prone to spreading my servers thin, one ice on each, not prepared to pay the necessary costs for layering my protection.  But six servers with little security only make for six easy Runner targets.  And easy winning.  Before I could even manage a scored agenda.
It didn't hurt that I began my first Haas-Bioroid game with Adonis and Pad Campaign in hand (the latter having been my only previous hope for non-click-requiring income with Jinteki).  Between these and the natural Haas ability to gain a credit for the first install of each turn, the money seemed to pour in.  While I occasionally found myself spending turns to gain credits, I also noticed there was much less budget-related stress on my side of the table overall.  I knew if my opponent came at me, I could rez the ice necessary to slow him down.  I was advancing agendas (finally!) and even stacking ice two, three, and even four thick.
Another added benefit of the Haas-Bioroid Corporation is its focus on brain damage and destroying programs.  I had been used to net damage with Jinteki, but it felt like I was beating my head against a wall, getting Philip regularly down to an empty hand but unable to complete the task of issuing that fatal last blow, leading him to beef up his hand once again and putting me at square one.  Feeling like I had some kind of control (however feeble) of the cards on his side of the table made me feel much less powerless as he placed one Ice-Breaker after another.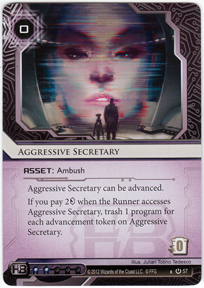 This point was driven home when my Aggressive Secretary, hidden behind three walls of ice, layered with three Advancement tokens, cost him twelve credits to access and then rewarded him by destroying all the programs he had just used to break through.  Yes, she's one of my new best friends.
That's not to say Junebug has no value to me – I still consider it a trusty standby and was sure to splash it in with my new Haas buddies, along with a snare and a few damage-causing ice.
Thus, I'm not sure how much of my new appreciation for Netrunner stems from a serious love of Haas-Bioroid (it's hard not to love a faction which leads you to victory in your first two runs with it) or from the fact that I'm simply learning from previous failures (layer ice, set up traps wisely – and maintain the poker face) to grasp just how this Corporation operates.
Either way, I'm not throwing it out just yet.  And I might even take my chances as the Runner soon.  Maybe not tomorrow.  But soon.