By Frank Brooks– February 4, 2013
Hello class and welcome to Netrunner 1001: Intro to Running, for those of you who are in the wrong classroom, you can leave now and not feel embarrassed.  I know many of you are new to this campus and I can understand why you might get confused with all of these buildings.
[waits for a couple students to leave the room blushing]
That's too bad you didn't sign up for this one, you'll be missing out on all the run, I mean fun [smiles, a few students giggle]. Ok class, let's begin.
I know many of you may have seen the game played, read the assigned reading or perhaps even played a few games yourselves. Just to make sure everybody is on the same page, I will have to start with the very basics. I don't want to hear groaning from any of you; it won't take long before we can talk about advanced topics, so for those of you that are already familiar with the basics, please hold with me.
Let's begin with an overview of the game. Can somebody give us an overview? Anybody?  I want to see some hands people. Terry?
Uhh it's a really fun card game that's like Magic but in the future.
Ok, I was looking for a little more than that.  It's true it was also originally designed by Richard Garfield but he has said that he make Netrunner as an attempt to be a game unlike Magic.  There aren't really any "counterspells" or stack to worry about and the resources behave very differently than Mana. Ok, I don't really want to get into that. This class will not be about how this game is or isn't like Magic.  Anybody else?  I know you are in this class since you want to learn more about running, but still, anybody have something else to contribute? Sarah?
Netrunner is an asymmetric card game played between 2 players. One plays as a megacorporation or "corp", the other as a hacker known as a "runner" in a cyberpunk setting filled with androids and clones and the humans dealing with the changing technological world around them.  The corporation attempts to advance secret agendas in remote servers away from their headquarters and research and development servers behind firewalls called ice.  The runner tries to disrupt the plans of the corporation by breaking into the servers of the corporation in daring, dangerous hacking attempts called runs.
Wow, I couldn't have said it better myself, (see me after class).  All of what she said is true.  It is a two-player game between a 'runner" who is the hacker and the megacorporation the "corp".  This class will mostly be about the runner since then you will be a better situation to understand what playing as the corp is like. One of the hardest hurdles to overcome to understanding this game is knowing the naming for various common gaming devices.  For example, the decks and hands of both players have different names from one another.  Here is what the game looks like.
Although this class is about running, we will start with a description of the corporation side first so you will understand what you are up against. The deck is called the R&D.  This represents the ideas that are up and coming.  Now quite available to access, but almost finished.  The hand is called the HQ.  This represents the ideas that the head honchos are about to put into motion. The HQ server is represented by the Identity card for the corporation although the cards "held there" are in the corp player's hand. The discard pile is called the Archives. Cards in this pile can be faceup or facedown.  Facedown cards are cards that were discarded or removed in a way that the runner wasn't able to see the card before it was put in there.  These are placed sideways so they can easily be removed from the stack to look at all the facedown cards at a later time.
For the runner, the deck is called the Stack.  A reference to computer programing, the stack represents all of the resources available to them.  The hand is called the Grip.  Since  the corp doesn't interact with the runner in the same way, the Identity card provides an ability, but doesn't really represent a placeholder for your hand like the HQ does.  The runner can install various things to help them including programs, hardware and resources.
Both players have actions which are called Clicks which is represented in the game by little clock symbols.  They also have access to money which is called Credits. These are the little Rubie or jem shape.  Here is a list of both players actions.
The runner has access to 4 clicks during their turn and the corp has 3 clicks but has a mandatory draw at the beginning of their turn so it is sort of like they both have 4 clicks but the corp has to spend the first one drawing a card.
So now that we have a rough idea of what the game is about, does anybody know what is the most important thing in the runners repertoire; can somebody raise their hand and tell me what that is? Yes, you.
Uh, the licebreeder?

Very close Jeff, the "icebreaker" is the most important program the runner has. Here is a simple example.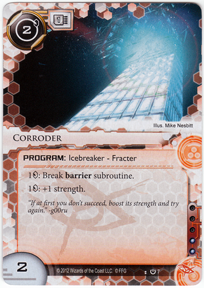 This is Corroder.  It is an icrebreaker, also called a "breaker".  You can tell since on the middle line, right after the word Program: it says "Icebreaker" as well as "Fracter", more on that later.  Another hint that it may be a breaker is there is a number in the bottom left corner.  Programs have a space for numbers there but only programs that are also icebreakers will have a numerical value there. So, why do we need icebreakers?
So we can break…ice?
Very good, Rachael, so we can break ice.  Why do we need to break ice? Steven?
To steal agendas from the corporation of course, duh, everybody knows that.
Steven, there is no reason to talk that way to me, we will be moving on the harder topics soon enough. Keep your pants on.  Yes, to steal agendas!  That is how we can win the game as runner.  Here is an example of a piece of ice.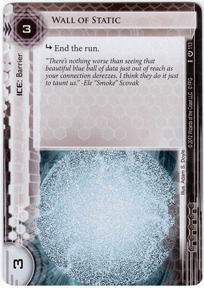 Uh, Professor Brooks, I'm getting confused, what does this all have to do with the game?
That's a good question, as you saw before in the diagram [goes back a few slides], ice is installed horizontally in front of servers, be them central or remote.  Most cards the corp puts into play come in face down or "unrezzed" unrevealed to the runner player.  They are inactive in this way, but can become active at a later time.  Each piece of ice can only be protecting a single server.  So the same piece of ice cannot block for R&D as well as HQ.  Once the runner initiates a run on a server, the corporation is allowed the opportunity to turn over or "rez" ice in attempts to thwart the runner.  Once the ice has been rezzed, it is too late for the runner to get out, they have to deal with the consequences of trespassing.  The runner does have the ability to circumvent these penalties by using icebreakers.
Lets say for example that you were playing runner and you have a Corroder in hand.  In order to use in you need to install it first.  Does anybody know how much it costs to install it?
2! 1! 7!
The answer is 2.  We know this since there is a two in the top left corner of the card which is rather convenient so then you can look at that number while the card is in your hand without looking at the full card.  So, you spend 1 click and 2 credits to install Corroder.  Now you have 3 clicks left in your turn.  You see two pieces of ice in front of their R&D but you still think you want to run it.  If you are successful, then you get to look at the top card.  If it's an Agenda, you get to keep it; points for you! Since the ice isn't rezzed you don't know what it is, but you are feeling confident so you run anyway.  The corp peeks at the outermost piece of ice again and chooses to rez it paying 3 credits to do so.  It's a Wall of Static! [changes to a slide with both Corrorder and Wall of Static side by side] Fortunately you can break it!  Does anybody know how much it would cost to get by?
…2!
Very good. As you can see on Wall of Static, it has a single line of text with a enter/return symbol in front of it.  This is called a subroutine.  If you can't break it, then it will trigger and you suffer the effects.  In this case, you can deal with it.  In order for you to interact with the ice, you need to make your icebreaker strong enough to interact with the ice.  The starting strength of the breaker is the number in the bottom left: 2. Does anybody know what the starting strength of the Wall of Static is?
3! 3! 113!
Yes it's 3 again, but not because it costs 3 to install, but because there is a three in the bottom left written the other direction (so you can read it easier when it is installed sideways). So, because it says so on Corroder, you can pay 1 credit to pump it up to 3 strength.  If the strength of the encountered ice was higher, you could keep playing 1 credit to keep increasing it one strength at a time.  Once the icebreaker is equal or higher in strength to the encountered ice, then you can interact with it.  You can pay 1 credit to break 1 barrier subroutine.  Since the Wall of Static is a barrier (you can tell since it is listed on the side after ICE: ) you are able to break the subroutine.  After paying to break it, you can safely get by the Wall of Static. Now after you defeated it, you have the opportunity to "jack out" and not continue, or keep going with the run.  You are feeling confident still so you keep going.  The corp remembering what the next piece of ice is and pays three (again) to rez it, this time it is an Enigma.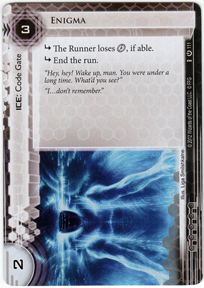 Can anybody tell me what's the problem here?
You don't have a Yog.0 installed?
Ok, smarty parts, you can leave right now.  Come back tomorrow, you might learn something then. [He proudly picks up his books, puts them in his backpack and walks out of the room. Somebody raises their hand] Yes?
How many credits do you have left?
Let's say you have 5 credits left.
Umm, I'm not sure. Was the corp not allowed to rez a second piece of ice?

No, that's ok though, that's why you are here. Although you have plenty of money to break subrountines and your strength which has gone back down to 2 is still high enough to interact with the ice, that isn't the problem. The problem is that this type of ice is a Code Gate and Corroder can only break barrier subroutines.  Even if you have a code gate breaker in your hand, you are not allowed to spend clicks during a run.  So, you will have the suffer the consequences.  You can't break Enigma so both subroutines trigger in order.  First you lose a click since in our example you had 2 left (first one installed Corroder, second started this run) and then the run ends.  The run only ends if you choose to jack out after a piece of ice or you have a subroutine trigger that explicitly tells you that the run ends.  These subroutines are called "ETR" subroutines.  Does anybody know why?
It is Latin for Exo Terminus, Runner!
Interesting thought but no, it stands for "End The Run".  ETR ice is nice to have for the corporation since it forces the runner to break the ice rather than just walk in. So the run ends and you have a single click left, you can do whatever you'd like with that click, but let's move on.
What every runner must know is that there are currently three types of icebreakers. Fracter, Decoder and Killer.  These don't do anything by themselves but instead give you a hint about which type of ice they can break.  Fracters have the ability to break Barrier ice type subroutines, Decoders can break Code Gates and Killers break Sentries.  It will also say explicitly on the breaker "Pay X to break ___ (type) subrountine". In order to get passed all types of ice you need to have a breaker of each type installed. Um, yes, Cathrine.
I was reading ahead a bit and I came across another type, AI, I think it was called.  It was sort of confusing.
Yes AI is sort of the "fourth type" of breaker.  Let me get out this one.
Crypsis is an example of this fourth type (there currently only is one other, Wyrm).  What makes AI so special is that they can break any type of ice.  See, it says "Break ice subroutine".  Since it doesn't specify, you can break any ice with it.  The problem with using AI is they tend to be very inefficient.  In this case, you need to spend a click "charging up" Crypsis in order for you not to lose him after a single use. Also, it starts out at 0 strength so you will have to pay more than almost any breaker dedicated to a certain ice type.
Now although I said you need all three types to get through all ice, you don't need to have all (or any potentially) in order to win the game.  You just need the ability to get 7 points worth of agendas.  It is possible to win with no breakers at all. How you ask? Well, in time.
So, any questions?
So in a game yesterday, my friend Modded in a Morning Star and Tinkered my Janus and using some Datasucker counters in order to got by super cheap and stole my MU.  Does he now get an extra click?
First of all, I don't think you should be in the Intro to Running class and secondly no.  Did he advance that agenda over at least 2 turns and score it? No, he just stole it.  The agenda text only applies to the corp.  Just imagine what would happen if he stole PSF?  Do you think he could deal you meat damage? Oh course not.  For the rest of you, that will make sense later.
We will be meeting up next time to talk about early strategy for deciding when to run.
Are there any other questions before we meet again?