By Collin– January 26, 2013
I'm flaminghito. I have a Youtube channel. It has Android: Netrunner videos. Well, only one right this second. But I'm currently fixing some kinks in my recording apparatus and hopefully soon there will be all sorts of Netrunner content being thrown at your face. I also skulk at various Netrunner discussion areas. I'm a long-time board gamer and roguelike player, someone who games to hone himself on the whetstone of objective challenge. I skipped out of Magic for the cost, but I'm fitting right in to the cheap and complex world of Netrunner.
But enough about me, let's talk about Netrunner. Specifically, the three best cards in Netrunner. Well, okay, what does best mean? Is best "the cards you should put in every deck"? In which case: Sure Gamble, Hedge Fund, and Melange Mining Corp. I picked them because they get you money, and you need money to win. Thank you for reading my article. I'm glad we could learn about Netrunner together.
There's something unsatisfying about that answer, though. I mean, lands are the best Magic: The Gathering cards, but everyone knows that. What we want are the cards that are good because they're good, not because they let you play the good cards – even if the former is nothing without the later.
But I want one more restriction. I want cards that would work well in any deck of the respective side. This means no agendas, because you can't splash them, and it penalizes cards with high influence costs. This is fine, though. The idea behind "best cards" is comparing cards with other cards, after all, and it feels somehow tacky to say "Astroscript Pilot Program is better than the neutral agendas you could run instead" or "If you build your entire deck around Scorched Earth, it wins games." We're not looking for one specific lynchpin for a combo, or just naming the obvious agenda choices for each faction. We want the cards that are better than the other cards, and that means the cards you could take instead of all of the other cards. Not the economy you need to do anything else, not the agendas that you are obligated to have, not a combo to build your whole deck around.
With that wordy preamble, let's begin:
The Third Best Card Is: Corporate Troubleshooter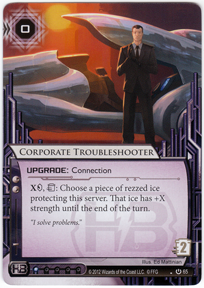 Let's talk about subroutines for a second. Subroutines are these things that happen maybe one time, if the runner blunders in to your Ice and doesn't have the right Icebreaker. After that, every subroutine is just a variable for a calculation the runner needs to make. You don't get to have the fun of running subs over and over. When the runner heroically runs blindly into an Archer, and you gleefully trash two programs, you don't then say "Wow! I can't wait to trash two programs AGAIN!" You get the one surprise shot, and then it's all just numbers.
Unless, of course, you've got this wonderful little card that only costs one influence. Corporate Troubleshooter takes those subroutines and gives them another chance to shine. This changes the game immensely. The obvious one is getting an end the run subroutine to fire off when it otherwise wouldn't, but Corporate Troubleshooter does much more than that. Archer and Rototurret get to trash programs all over again. A runner who ran on the last click because they can break your Hunter suddenly gets a tag they weren't ready for. Hell, maybe you buff Janus 1.0 or Neural Katana and the Runner just dies. And you can have three of them in your deck.
A tricky element to Corporate Troubleshooter is what the Upgrade pool consists of, at least circa Trace Amounts. There are only 3 Upgrades that can affect a run in progress before the access stage. One of them, Akitaro Watanabe, only makes ice cheaper, and Experiential Data only buffs ice strength by one. There's nothing that can suddenly make ice impossible to deal with like Troubleshooter. So, when you throw three of them in your Jinteki deck, what are the odds your opponent thinks you have the one card that can make your Neural Katana unstoppable?
It costs exactly as much as you need it to, with no surcharge, and it's only one influence. That's pretty cheap to turn the credit speedbumps on your Ice back into subroutines.
But It Was Almost: SanSan City Grid
As far as Upgrades go, Troubleshooter is the best, but damn if SanSan City Grid isn't a close second. The thing about making Agendas cheaper to score is that there are these massive discontinuities in how Agendas are scored. An Agenda with modified difficulty 2 can be scored from hand, making it completely irrelevant whether they can get in to your sever. If your Agenda has modified difficulty 3, you can "blank score" it from table, meaning that you need to play it one turn, but not advance it, to score it next turn. This is still pretty good. After all, a facedown Agenda with no advancements looks exactly like an Asset or Upgrade. And if the runner is running on every face down card, those costs will add up quickly. Oh, speaking of costs and running on upgrades, did I mention San San costs 5 to trash?
Ultimately SanSan loses to Troubleshooter on a few counts. Its 3 influence cost is part of the problem. More worrying is the prohibitive 6 cost to rez. I've often had an Agenda scoring stymied by needing just one more credit, and paying 6 exactly at that time when you need credits most is a tough sell. There's also the fact that it doesn't help on the "overkill" agendas like Project Atlas or Braintrust. You either score them for the cheaper cost and get no effect from the Agenda, or score them with extra for the effect, but SanSan is utterly useless. I love it in NBN decks, particularly alongside Astroscript Pilot Program, but it's not as universally cool as Corporate Troubleshooter.
The Second Best Card Is: Inside Job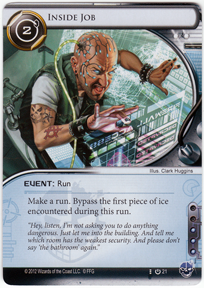 Here is a true story about Inside Job. I used to think Inside Job was a pretty good card and would run three copies of in every Criminal deck. Then, one day on OCTGN, someone helpfully informed me I was reading it wrong, and it refers to the first Ice encountered, not approached. Which means that, if you have a derezzed piece of Ice on the outside and a rezzed piece further in, Inside Job walks past both of them. When you love a super strong card, and it turns out you were using a nerfed version of it – well. That puts things in perspective.
Probably the best use of it is to stop the dreaded turn two Melange. It's one of the biggest threats in Netrunner, and it all comes down to whether you have the right breaker for the ice they put down or not. Or, if you have Inside Job. Then it's 2 credits and 1 more to trash, sorry biggest threat in Netrunner. Hey, maybe you'll have another Melange, and I won't have another Inside Job? Keep on hoping. Not to mention the turn 2 Melange will be even more powerful when Chimera is released next data pack, but Inside Job still won't care.
It has tactical usages throughout the game, though. Server protected by two pieces of derezzed Ice? Inside Job means they either have to rez both or let you in. Need a quick bit of cash? Inside Job past some bad Ice and collect from Bank Job. Worried there might be Ash or Red Herrings in that remote? Inside Job first to ensure that if you come in the front door later, it'll at least be worth your time.
I said I'm counting influence costs as a factor in my analysis. Yes, this is three influence. It's still that good! It's not an auto-include in every deck, maybe, but Criminals have no excuse, and everyone else should still give it a thought. It's an amazing tactical tool, and the only real counterplay that exists is for the corp to wait for you to run out of them.
But It Was Almost: Account Siphon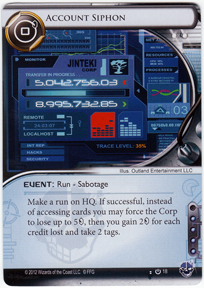 If you haven't noticed, basicially for best Runner cards I was looking at Criminal events. Criminal events are rad. And yes, it's true, in most stages of the game I would be happier drawing Account Siphon than Inside Job. Making the Corp lose money is an incredibly awesome thing, and the other tools for doing it are awkward and clunky. Vamp makes you lose money so they can lose the same money? How about making them lose money, and gaining DOUBLE that money? It's kind of like you losing money, only in the other direction, twice as much.
Basically, it only loses to Inside Job because it's so unsplashable. Inside Job's 3 influence cost is nasty enough, but worth it. 4 influence for Siphon is just crushingly huge. There's also the obvious synergy with this and Gabriel's passive that you lose splashing it. It sounds small, but making 2 fewer credits when you Siphon makes it fairly less appealing.
Pretty much any Criminal deck has no excuse not to run 3 of these. For Anarchs and Shapers, though, I have to give the win to Inside Job. Also, it's a little unsporting to count Account Siphon in our list. We said we weren't counting money cards, and this is just a money card that also takes their money. Get outta here, Account Siphon.
The Single Best Card Is: Tollbooth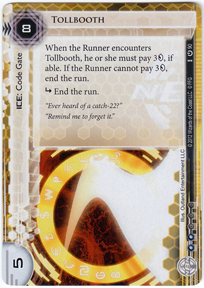 Tollbooth is the best piece of Ice in the game. It's influence cost of 2 means it's cheap enough to have 3 copies in every corp deck. And, seriously, I do. It's that worth it.
First off, it's a strength 5 code gate. As of Trace Amounts, it's one of only two codes gates with more than 3 strength that can end the run. And the other, Cell Portal, only ends the run if you set it up in a way that it's too dangerous for the runner to hit the server again. So right there, that's a cool thing. Runners want to run a cheap code gate breaker like Yog.0 or ZU.13 Key Master. Tollbooth forces them to take Code Gates seriously.
But this pales in comparison to the amazing thing about it: the ability. Pay exactly three credits or end the run. Wow. First off, it hits them the first time they encounter it. Unlike Data Raven, they can't choose to just avoid it instead. That already helps take the sting off of the 8 rez cost. But the beauty of Toolbooth's ability comes after. Remember when I said that after the first subroutine, it's all just math? Well, Tollbooth adds 3 to that magic number of "how much will it cost me?". And here's the thing about adding 3 to a number: it gets 3 bigger. ZU.13 Key Master? 8 credits to go through Tollbooth. Peacock? 7. Gordian Blade? 7. Crypsis? 9 and the click for the virus counter. Wyrm and Yog.0 working together? 9. Those are some serious numbers. Bait a runner ONCE with an ambush or upgrade or even just a money asset, and the cost they incur is enough to dramatically swing the game. Running a Tollbooth server is a serious proposition, and if the runner doesn't have cards that expose, they have to consider it very carefully.
Yes, it's not perfect. In particular, it's pretty hard countered by Femme Fatale, as bypassing ignores the ability as well as the subroutines. The fact that the standard counter to an 8 cost piece of Ice is "this thing that costs 9 and a memory unit and will just be a mediocre sentry breaker if Tollbooth is gone" (hey, did somebody say Security Subcontract?) should tell you something. Femme Fatale is a good card, because Tollbooth is an AMAZING card.
Any corp deck you build without 3 Tollbooths should be accompanied by a short essay titled, "Why I Didn't Want Three Tollbooths." I'm not saying there's never a reason not to have three Tollbooths. I'm just saying, you'd better show me your sources. MLA citations.
But It Was Almost: Archer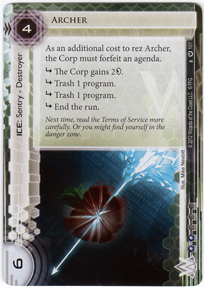 I bet there were a lot of people yelling as they read that last bit. "No, Tollbooth isn't the best Ice! Archer is!" Weyland player, right? Yeah, okay, you can say that. The rest of us don't have 2 1-point Agendas. Jerk.
Seriously, though, Archer is a great card. It has some sweet advantages over Tollbooth. It trashes programs, for one thing, so it's much more brutal to stumble upon unwittingly than Tollbooth. And it has four subroutines, not one. Femme Fatale doesn't even seem like a counter when it's still 4 credits to bypass every time.
That exile an agenda cost, though, that's a killer. Not for Weyland, who can just give up a Posted Bounty or score a Hostile Takeover from hand whenever they need to be able to rez an Archer. But the only other 1-pointer in the game is Breaking News, and aside from that, what are the options? Either sacrifice a 2 or 3 point agenda – in which case, damn – or Priority Requisition, which gets you the awesome roadblock Ice but no surprise value, and also means that your Archer is basicially a dead draw if you can't get the Priority Requisition scored.
There's also the new problem of Snitch coming next data pack. Now, I don't agree with people that say Snitch will be the new OP, 3-in-every-Runner-deck card: those people are forgetting that Ice you jack out without encountering is Ice the Corp didn't have to pay for. But one place Snitch will really shine is Archer. It's going to be that much less likely for Archer to actually be running those program trashing subs. And without that, what do you have? Well, an amazing piece of Ice that costs a ton of money to get through. Tollbooth does that without blowing up an Agenda, though, so I have to give it the win. It's also worth noting that Tollbooth's clever flavor text joke beats out Archer's subtle reference, although on the flavor text tier list they both lose to the mighty Data Mine.
So. There are three great cards, and three almost as great cards. Agree, disagree, have a card you think I'm crazy for missing? Go ahead and throw it in the comments. After all of those words of mine you just read, we're basically family.