At this point I'm coming full circle on the major objective subset (Jedi, Sith, Rebel Alliance, Imperial Navy, and neutral … don't worry, I'll get to Smugglers and Spies and Scum and Villains eventually) so it's time to look at another Jedi objective. From the desert to the swamp …
In You Must Go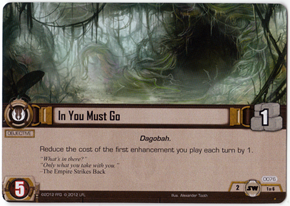 In You Must Go provides a great boon to the Light Side, provided you have enhancements to play. Most notable about the ability is that it doesn't require any sort of affiliation match for the enhancements, so it can benefit you when you play Rebel Alliance, Smugglers and Spies, or Jedi enhancements equally. As far as objectives go, I have to say this is possibly one of my favorites as the ability is always great (unless you just draw no enhancements to play) and it's subtle enough to keep the Dark Side from targeting it by default. If you can take advantage of the discount more than once, its inclusion is more than justified in my opinion.
Yoda
What would Star Wars be without Yoda?  He's a Jedi Master and this mastery translates beautifully to the game via his five force icons. His icons are edge-enabled however, so you have to win the edge for Yoda to be useful in combat. If you do win the edge his ability can turn him into the most dangerous character on the table with very little additional effort. If you can get an enhancement on him (like Shii-Cho Training in this set or Jedi Lightsaber from A Hero's Journey) Yoda gains an edge-enabled unit and objective damage for it. This even applies if your opponent puts an enhancement on him (Intimidated from the Cruel Interrogations set, for example). The only thing that I don't like about Yoda is his meager 2 health, putting him in easy reach of being killed by enemy events or unit damage if you don't have someone to shield him or some other way to prevent it.
Believer in the Old Ways
The Believer in the Old Ways is the Jedi equivalent of the Sith's Dark Side Apprentice I discussed previously. She's a solid unit for her cost but not particularly amazing. As a Force Sensitive, she's a viable target for Jedi Lightsaber and some other card effects, but she's unfortunately not a Force User, so the next card in this set can't help her. In the end, I consider her more filler for the set than a spotlight unit, but she's definitely worth playing to the field when you can and, while not impressive, her one force icon does give you the option of using her for edge battles or to push a little harder for the balance.
Shii-Cho Training
I want to love Shii-Cho Training, but it's just a tad too specific in what it can target for my tastes. There are only a very small handful of Force User units in the game at this point (I believe the core set comes with 5 total spread across 4 objective sets) which means that Shii-Cho Training has a very small chance to be played outside of the edge stack. That said, it does do well in the edge stack, providing two icons, and when you are able to play it on a Force User unit it's really great. Yoda, especially, can become a beast with this allowing him to spread his damage across multiple participating enemy units which could clear the enemy field during an engagement and save Yoda from being damaged himself.
Dagobah Training Grounds
I covered Dagobah Training Grounds in my first post in this series, so I won't go into depth on it, but overall it's a good card. This set's objective actually makes it even better, as you can play the Training Grounds for free (it's an enhancement) and get a good bump to your resources early in the game. I'd still prefer for it to have a force icon for the occasional edge battle, but the synergy with the objective is enough for me to overlook that lacking feature.
Counter-Stroke
Events can be the scariest cards in the game at times, particularly when Force Lightning and Force Choke are in the mix. As I mentioned above, Yoda is particularly fragile, so being able to cancel the Dark Side player's events is very important. Really event cancelling is always a good option to have, because it means your opponent has been thwarted, if only for a moment. Also, Counter-Stroke brings two icons to edge battles.
The Score
This set was pretty hard for me to assess. I love the objective as enhancements are a big part of the game and Yoda is amazing for contesting the Force or for killing objectives when he's got an enhancement or two on him. The Believer and Shii-Cho Training are good to have around and I would give the latter a perfect score if it could work on Force Sensitive units as well. If I believed in giving half-points, I'd give the Believer a 3.5 for the set, but this is a 1-5 scale and I don't believe in cluttering it with decimal points. In general, this is a set I'll be including in any Jedi decks I play and possibly as a splash in Rebel Alliance or (eventually) Smuggler and Spies decks.
| | |
| --- | --- |
| In You Must Go | 5 / 5 |
| Yoda | 5 / 5 |
| Believer in the Old Ways | 3 / 5 |
| Shii-Cho Training | 4 / 5 |
| Dagobah Training Grounds | 4 / 5 |
| Counter-Stroke | 4 / 5 |
| Total | 25 / 30 |