I'm ending my second rotation through all of the major core-set factions, so it's time for another affiliation-free objective set. This time it's for the Dark Side and their vain search for droids.
Looking for Droids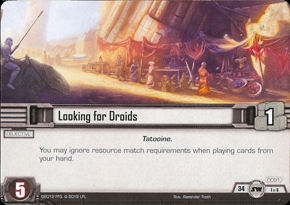 This objective set is a mirror of the Light Side's Rumors at the Cantina. As with that objective, I'm not terribly impressed with this one for this stage of the game. Once we have the Scum and Villainy affiliation fleshed out a bit more and the idea of three affiliations in a single deck becomes more likely, I expect this objective will be more valuable. As it stands now, it's just a mediocre effect in and of itself.
Viper Probe Droid (x2)
Viper Probe Droids are a fun idea for a unit. While they're not outstanding, having only one health, one force icon, and edge-enabled objective damage all for a cost of two, they bring an option that other units don't. When the Viper Probe Droids are in your discard pile, you can deploy them as if they were in your hand. This means that you always have the option of bringing them back, so long as you can pay the resource cost. Unfortunately, they're probably not worth reviving in most cases, but if you desperately need another unit on the field, they're available. This is particularly useful if you need to use them on an edge battle, as you can throw them away for the edge and then play them to the field on the next turn.
Dark Alliance (x2)
Dark Alliance is another card that, like the objective in this set, is currently not very valuable, but will probably see more play as more affiliations splash together. It costs nothing to play and allows you to ignore resource requirements for the phase, so you have to choose whether to use it to help you play a unit during deployment or to save it for that event during the conflict phase. With two force icons, I expect it will be edge filler more often than not.
It's Worse
The only card that makes this set worth considering right now is It's Worse. There are very few cancellation effects at this point in the game, so being able to cancel any interrupt effect could be a big surprise swing. To top it off, it lets you damage an enemy unit after you've cancelled the effect, adding insult to injury. It costs nothing to play and brings two force icons, guaranteeing that it's useful even if your opponent never plays an interrupt. I love this card and that's before I even consider the flavorful interplay between it and It Could Be Worse. In my opinion those two cards interacting is one of the most beautiful things that could happen in this LCG.
The Score
This set beats the Rumors at the Cantina set for the title of worst objective set. The objective and Dark Alliance aren't useful in the current state of the game and the Viper Probe Droids are a cute gimmick, but they're hardly impressive. With other sets to synergize against, I could imagine this objective set being better scored, but as it stands now, the set is only worth running to get It's Worse and playing 5 cards you don't want just to get one that you do is a poor trade off.
| | |
| --- | --- |
| Looking for Droids | 2 / 5 |
| Viper Probe Droid | 1 / 5 |
| Viper Probe Droid | 1 / 5 |
| Dark Alliance | 2 / 5 |
| Dark Alliance | 2 / 5 |
| It's Worse | 5 / 5 |
| Total | 13 / 30 |