The Rebel Fleet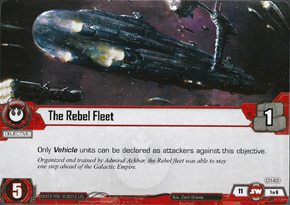 The Rebel Fleet is another standard five health and one resource objective. It comes with a fairly interest ability, limiting what the Dark Side can use to attack it to Vehicle units. This means that Emperor Palpatine, Darth Vader, and a large number of their lackeys can't even try to engage this objective. While it doesn't guarantee the longevity of the objective, it could certainly slow down Dark Side aggression from a Sith deck or an Imperial Navy deck that, for any reason, doesn't have many vehicles in play. Unfortunately, decks that are likely to attack your objectives are also likely to be running lots of vehicles (as those are generally the more anti-objective units in the game), so while I want to like the ability on this set, I don't know that it will do a lot in most games. It's enough to keep your opponent at bay for a turn or two, maybe, but not enough to stop someone dedicated to destroying the Light Side objectives.
Home One
While the objective for this set seems defensive in nature, Home One is nothing but offensive firepower. With two unit damage and two objective damage icons, it can readily dispatch any defending units and still do substantial damage to an engaged objective. With the Elite keyword, it can be committed to the force, taking advantage of its three force icons while still being able to strike. What's most impressive and terrifying about this ship though is its ability to damage every enemy objective when it attacks. This ship is probably the biggest player, in my opinion, when it comes to trying to down multiple Dark Side objectives in a single turn. Between Home One, a Y-Wing or two, and Rebel Assault the Light Side player should be able to knock out a couple objectives, or at least put some serious pressure on the Dark Side as soon as Home One makes a strike.
Y-Wing
I've covered the Y-Wing in my look at the Defense of Yavin 4 objective set, but I'll recap briefly here. It's a two cost unit with two objective damage icons, making it a big threat if it gets a chance to strike. It's not much of a factor for edge battles or the force struggle as it only has one force icon, but with Home One the Y-Wing can help to split the Dark Side defenders and threaten multiple objectives in one turn. This is one of my favorite aggressive Light Side units and I'm very happy to see it included in this set.
Repair Droid
The Repair Droid is a great utility unit for Home One. He can remove a damage from any Vehicle unit without needing to be focused, so even if your opponent has tactics icons in play, they can't remove the healing ability here. He could even be committed to the force, although he only provides one icon to the struggle, and the Light Side player only has to worry about losing his help on the struggle if the Dark Side can focus him out. With only one health, the Repair Droid won't last long in a fight, but as a pure utility piece, it's unlikely to see much battle anyway. For any deck with lots of vehicles, this card alone could justify including the entire set.
Hidden Outpost
Good old Hidden Outpost makes an appearance here. As I've mentioned on these resource cards before, it makes a good bluff card for the edge battle, but more often you'll want to play it in the early game to give yourself more resource-generating cards. At one cost, it immediately redeems its cost in providing a single resource. It's definitely a great card to have in any set, though it would be better if it weren't limited or if it had a force icon for edge battles.
Target of Opportunity
In keeping with Home One and the Y-Wing, this set includes Target of Opportunity for added objective damage. It's never bad to have this fate card available when you're on the offensive. It's only a little painful to drop it on the defensive. In all, a great card to round out a very threatening set.
The Score
The objective is interesting, but not immensely strong. Fortunately, Home One, the Y-Wing, the Repair Droid, and Target of Opportunity more than make up for any lacking there. The Hidden Outpost is also a great card, although I keep finding myself wanting just a little bit more from the resource enhancements. In all, this set will find its way into my Rebel Alliance decks and likely be maxed out as soon as I get my hands on a second core set.
| | |
| --- | --- |
| The Rebel Fleet | 3 / 5 |
| Home One | 5 / 5 |
| Y-Wing | 4 / 5 |
| Repair Droid | 5 / 5 |
| Hidden Outpost | 4 / 5 |
| Target of Opportunity | 5 / 5 |
| Total | 26 / 30 |