By Kordos– January 21, 2013
I love the Imperial forces in the Original Trilogy and I love the amount of Vehical the Imperial Navy can field in a deck,  so after much deliberation after picking up a second core set I settled on the following for my first Deck Build and I finally got the chance to test it out today
Imperial Navy Affiliation
Defense Protocol x 2
Imperial Command x 2
The Endor Gambit x 2
28 units – 16 of those vehicles
6 fate cards
and most importantly 4 x Death from above, 4 x Tallon Roll and 2 x Orbital Bombardment  to help all those vehicles really stick the boot in
My opponent was running a Rebel Alliance Affiliated deck and with plenty of resources and 2 x Mission Briefings in play he had the card advantage all game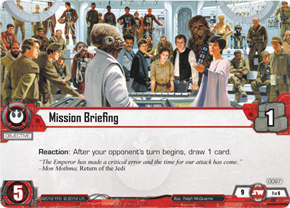 While my deck can swarm it took awhile to get all my units in place, resource management may be an issue with my deck and of course the force struggle is not the strong point of the Imperial Navy cards either, I already knew this would be an issue but to then find my hand full of units I couldn't play yet was a blow I was not really expecting
Despite this the game swung back and forth and when the Death Star ticked over to 8 the Light Side only needed to destroy one more Objective to win the game while they were trying to stop me from finishing off 2 heavily damaged Objectives and destroying one or preferably both would have netted me the game .
The Light Side narrowly avoided losing one Objective and just neutered my final assault and thus on their turn took their third Objective and won the game.
Notes:
Will have to play some more with this deck and see if resource management  turns into a continual problem
Rebel Assault is crazy good and he had 4 of these!
I underestimated Admiral Ackbar , never again!
Second game we switched sides and I grabbed my Jedi deck, a simple deck that seems a lot easier to make then my Imperial Navy one, after having much success using 
Guardian of Peace
units combined with 
Believer in the Old Ways
when I was learning the game with the core decks I simply included as many of them in my deck and built the rest around them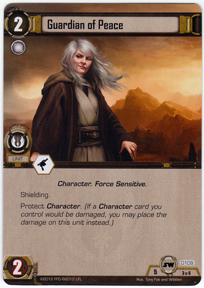 So I had -
A Hero's Journey x 2
In you Must Go x 2
Jedi Training x 2
My opponent chose an Imperial Navy Deck, mainly focused on Troopers with cards like Orbital Bombardment and Superlaser Blast to enhance and  project his power - unfortunately for him the game did not last long enough for Superlaser Blast to come into play or for enough units in play to really get a good run from Orbital Bombardment
My opponent captured a card at the start but it didn't hinder my play, I got enough Guardians of Peace, Believers in the Old ways and Jedi in Hiding out in the first two turns I could bring out Luke Skywalker with no worries of him dying from being constantly targeted by my opponent. My opponent suffered a similar problem  to myself with my Imperial Navy deck in that he just couldn't get his units out fast enough
The Death Star had only ticked to 4 and with my constant force presence coupled with my control of the play area I netted my 3rd Objective. The early arrival of Skywalker, coupled with his ability to engage in both players turn (Reaction: After your opponent's turn begins, remove 1 focus token from this unit.) Removed Grand Moff Tarkin  from play,  helped hold the Force Struggle firmly in my favour and kept punishing the enemy Objectives, the game was over before it really started.
Notes:
We played two games in about an hour, even with some rules checking and card discussion, I'm pretty happy with the speed of play
The Imperial Navy does seem to have a tempo problem and takes awhile to build up, further playtesting is required
The Jedi Objective sets are far more versatile than I thought, you can really push the attack with them, you have force icons a plenty for edge battles and their survivability is impressive, again, especially thanks to Guardians of Peace
Next, more Deck Building as I try out a triple affiliation deck