By Philip Rowland– February 8, 2013
I didn't really think it would be particularly useful or fair to go through only the Light Side objectives, so for my second post in the series, I'll look at the Sith objective …
Fall of the Jedi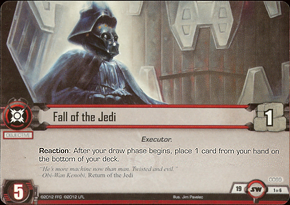 The first time I looked at this objective I had to ask myself why I would ever want to use its reaction. It wasn't until I had played a few games that I realized how important it is to cycle cards in this game. With Fall of the Jedi you can lower your hand size by an additional card before you draw or even by two cards if you get two copies of this objective out. This means that you can draw even more cards, which lets you potentially draw into your powerhouses (like the featured character of this set) faster. It also has the benefit of putting cards on the bottom of your deck instead of discarding them, so even though you're cycling more cards, you're not entirely losing them. With a decent health value and the unsurprising 1 resource, this seems like a decent utility objective, however it's not one to include solely for the objective's sake.
Darth Vader
Immediately, Darth Vader shows why you might want to use the objective to cycle your cards faster. If you don't have any Sith events to play, his reaction to damage enemy units is useless, so you'll want to draw as many cards as possible to capitalize on his reaction. Of course, this ability can only be used once per turn, but his icons and health are extremely good, justifying his (perhaps intimidating) cost of 5. He's also Elite, meaning that unless your opponent is playing lots of tactics, Vader can even commit to the Force and still afford to take a strike now and then. Even so, I feel like he's a little less threatening than he should be. His icons are identical to Luke's, so in combat he's effectively not much better than his new-to-the-force-Jedi son.
Dark Side Apprentice
The Dark Side Apprentice brings a solid unit to the table with decent icons and health, being able to damage enemy units even after losing the edge is good and having two health means he can survive strikes from weaker enemy units or the odd unit-damage ability. In a pinch, he can provide a single force icon for edge battles or to the force struggle. Overall, he's not my favorite unit in the game, but he's strong enough to pose an early-game threat and can risk going into a conflicts that other weaker units wouldn't survive.
Vader's Lightsaber
As the card's title suggests, this is one that you'll always want to play on Vader himself. While the unit damage it grants is never a bad thing, being able to give Vader targeted strike turns him into a whirlwind of pain for the Light Side player. Between his attacks and reaction, he can hunt down any unit he wants so long as he has Lightsaber in hand. On top of that, the Lightsaber can bring two icons to an edge battle, which is great if Vader isn't around to enhance. While you can enhance other targets, I imagine it'll end up in the edge stack more often than not without its owner on the field.
Force Choke
Force Choke is the perfect synergy card for Darth Vader, playing with his built-in ability and granting two damage (potentially split across two units) at no cost. What makes this really interesting to me is that, because it has a cost of 0, it can easily be played any time you need it. You can use this during an engagement to kill an attacker or defender that might otherwise ruin your plans or you can use it just before the force struggle to nudge things in your favor. The only drawback is that it can only be played once per turn (for good reason) and only against character or creature units, so those X-Wings that are bothering you are safe from being choked.
Heat of Battle
Fate cards are always nice to have around as they make the decision on when to play them very simple. Heat of Battle fits very nicely with the rest of this set's theme, which I interpret to be "kill stuff fast." It, of course, gives two icons to the edge battle and allows you to damage a participating enemy unit and every point of damage is important in this game. The only down side to fate cards is that they don't give you options outside of edge battles which may mean that you don't get a chance to play it if you or your opponent ever choose not to engage in conflict. Of course, as the Dark Side player, if there are no conflicts happening, the odds are that you're already winning the game anyway.
The Score
Again, this is my totally arbitrary and biased score for the set. If you disagree with me, that's too bad, but you can still let me know in the comments.
| | |
| --- | --- |
| Fall of the Jedi | 4 / 5 |
| Darth Vader | 4 / 5 |
| Dark Side Apprentice | 3 / 5 |
| Vader's Lightsaber | 4 / 5 |
| Force Choke | 5 / 5 |
| Heat of Battle | 3 / 5 |
| Total | 23 / 30 |