By Philip Rowland– February 15, 2013
This time we're back to the Dark Side!
Imperial Command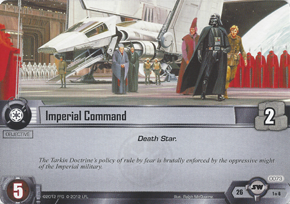 Imperial Command isn't the first objective I've looked at in this series that doesn't come with any special text or actions. However, the other one I saw, in the first post of this series, had only four health where this one has 5. Like A Hero's Journey, this objective provides two resources, which is useful, but it'll need a pretty solid suite of cards to be worth including in a deck.
Admiral Motti
Admiral Motti at first glance seems to be a fancy resource generator. He costs a little more than he provides, which means you're playing him at a loss on the first turn, but he can provide his full two resources every turn (barring meddling from Light Side tactics). He also brings three force icons which make him good to throw away in an edge battle or to commit to the Force, not to mention the irony value of committing Motti to the Force at all. Overall, Motti is actually an excellent toolbox. If you need two more resources, he's your man. If you over exerted yourself and need a focus removed from a unit, he's your man. If you want someone to sit back and contest the Force, he's your man. If you want someone to annoy Darth Vader publicly … well you know who to call now.
Duty Officer
This objective is all about resource generation, as Duty Officer seems to suggest. While he has no icons of his own, he can generate a resource and, unlike the Hidden Outpost and Dagobah Training Grounds seen in previous posts, he has a force icon. He can be committed to the force or used in an edge battle if the need arises. Also, on the rare occasion you have Light Side attacking an objective without any unit damage icons, the Duty Officer can jump in and at least present some token opposition to their attack. While it's unlikely to happen, he's ready to make them score objectives over his dead body.
Heavy Stormtrooper Squad (x2)
Heavy Stormtrooper Squads make for good objective defenders. They have no blast damage icons, so it's unlikely that you'll be sending them off to engage the enemy, but whenever you're attacked, they bring two unit damage (when you win the edge, only one if you lose it) to bear which can kill most units and with two health they've got enough stamina to stand a decent chance at surviving a conflict. They only provide one force icon so they're only a little useful for edge battles or being committed to the Force, but I'll reiterate, these guys are for defense. They're there so that your opponent is disinclined to attack in the first place and to punish them when they attack anyway.
Orbital Bombardment
Finally we get to the really amazing card in this set. For a substantial cost of four, you can give every unit you control objective damage for the rest of the game. In case you didn't catch it the first time, you can make every unit you control, from the humble Duty Officer to the Heavy Stormtrooper Squad into a part of the objective killing machine. As the Imperial Navy seems to specialize in destroying the Light Side objectives to accelerate the Death Star, this enhancement is extremely valuable. Now those Heavy Stormtrooper Squads can really go on the offensive in a big way and your units from other objectives are even more threatening. With enough small units on the board, it's not unreasonable to expect to kill two objectives in a turn, pushing the Death Star's timer ahead every time you succeed.
The Score
The objective itself isn't amazing, but overall the set provides great utility and defense for the Imperial Navy. With Motti and the Duty Officer providing resources, Heavy Stormtrooper Squads on defense, and Orbital Bombardment boosting the offensive capability of every unit you control, I'd have to say it would be hard not to include this set in an Imperial Navy deck.
| | |
| --- | --- |
| Imperial Command | 3 / 5 |
| Admiral Motti | 5 / 5 |
| Duty Officer | 4 / 5 |
| Heavy Stormtrooper Squad | 4 / 5 |
| Heavy Stormtrooper Squad | 4 / 5 |
| Orbital Bombardment | 5 / 5 |
| Total | 25 / 30 |