By Philip Rowland– February 19, 2013
Having looked at the major factions for Light Side and Dark Side that are currently available, it's only appropriate now to look at crossing those affiliation lines. For anyone unaware, the rules demand that cards be paid for by resources generated on a card of the same affiliation (i.e. Jedi resources for Jedi cards, Imperial Navy resources for Imperial Navy cards, etc.). That is, unless you're running an objective like …
Rumors at the Cantina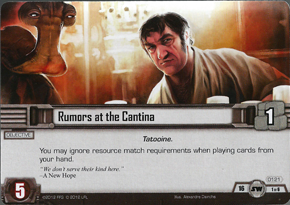 For a pure-affiliation deck, this objective does absolutely nothing worthwhile. If every other objective you control provides the correct type of resource, there's no need to ignore that point. However, if you're playing Smugglers and Spies cards (for which you can only provide resources by the affiliation card itself or the one objective released for that affiliation) this objective is suddenly very important in helping to guarantee that, should you draw a cross-affiliation card, you can use all of your resources to play it. It's worth noting that the objective only helps for cards played from your hand, so should you be able to play a card from the discard pile or anywhere else, you'll still need to match the resources. For the current state of the game, I'm torn on how valuable this card is. For a deck that needs to splash just one or two objectives it's something of a must-include but for anyone else it's not worth giving a second look.
Rebel Sympathizer (x2)
The Rebel Sympathizer brings a tool to this set that would make me consider playing it even in an affiliation-pure deck. For a cost of 1 I get a decent, if unimpressive, character to help hold down the fort. His only icon is edge-enabled and he only brings one force icon, but the real beauty here is in his action. By discarding the Sympathizer, you get his cost back on the next card you play, letting you bank some resources for a future turn or discarding him after he's been focused to play an event for less/free. He also helps you ignore resource match, if that's a concern for your deck, but most of this objective set does that.
Common Ground
As noted for the Sympathizer, everything in this objective set works to help you ignore resource match. Common Ground is no exception and, while it's not as efficient as the Sympathizer it can be longer-lasting. It can be thrown on the edge stack for two icons, which is probably where it will end up a lot of the time, but if you're including the objective for the resource-match issue, this isn't a bad enhancement to play on your other objectives.
Rescue Mission
Rescue Mission is one of the most flavorful cards in the game, in my opinion. It nearly perfectly captures the moment aboard the Death Star where Leia is not only rescued but immediately becomes part of the action. At the moment there are only a handful of cards and effects that capture Light Side cards. I expect that we'll see a lot more use for this card in particular though as Scum and Villains get fleshed out in future Force Packs. Best of all, if there's nothing captured that you need to rescue, the two force icons are there to be used at your leisure.

It Could Be Worse
This event is my favorite card in the objective set. While it doesn't do much for edge battles, bringing only one force icon. It's a free damage prevention for a unit or objective. Not quite as effective as a shield token (as it can't prevent tactics) it can be just as important when the Dark Side player thinks they've got exactly what they need on damage to kill your objective or key unit and you don't have to play it until the critical moment. This is easily the most important and always-useful card in this set.
The Score
At the moment, this is the lowest-scored objective set I've come across. A lot of that is due to the primary feature being cancellation of the resource-match rule and how little I've encountered that issue. I'm sure that, as the game grows and there are more objectives worth splashing from one affiliation to another, my personal scoring of this set will improve. As it stands now though, it's not one I plan on using unless I start playing Smugglers and Spies.
| | |
| --- | --- |
| Rumors at the Cantina | 3 / 5 |
| Rebel Sympathizer | 3 / 5 |
| Rebel Sympathizer | 3 / 5 |
| Common Ground | 2 / 5 |
| Rescue Mission | 3 / 5 |
| It Could Be Worse | 5 / 5 |
| Total | 19 / 30 |