By Matthew– January 25, 2013
It's very important to get a strong start in Star Wars LCG.  A poor first turn can put you too far behind to catch up and end up with a rather short game that you lose.  Luckily, there are a few ways to minimize your chances of bad starts.  One of those is through good deck building, which we've already talked about some.  Instead, today we'll look at the pre-Turn 1 decisions and how they can impact your first turn.
Starting Objectives
The first decision you make once you sit down to play a game (other than who to play with and who plays which side) is to pick your starting objectives.  Your choices here are limited as you draw 4 and pick 3, but you do have some options.
The first thing to think of is available resources.  If your deck's power play would be a 4-cost unit like Han or Luke, then you can safely toss back that 2-resource objective and keep one with a more useful ability.  However, if you'd really like to be able to play Vader on your first turn (and we'll look at how likely that will be in a moment), then you'll need that 5th resource available.  If you're playing a swarm deck, this is less likely to matter to you as you'll probably be playing 2-3 cheap units either way.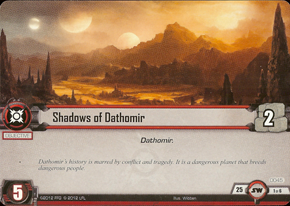 And now a quick look at the statistics of drawing that power card (hence why it's ok to plan around it this early).  For a card with 2 instances in your deck (say Vader), you'll have a 23% chance of drawing at least one copy in a 6-card hand.  After accounting for a mulligan and your ability to discard a card, the total odds of finding that one card jump to 43%.  Not a sure thing, but good enough for me to always keep an extra resource when playing a Sith deck that would love to see an early Vader.  But let's say you have 2 cards (each x2) you'd love to have as turn 1 plays (example – Vader and the Emperor when you have the chance to keep a 6 resource start).  Now your odds of finding at least one copy of one of them after mulligan and discard are 68%!  Maybe not worth keeping Heart of the Empire as a start, but certainly worth giving a 2x Shadows of Dathomir start a look.  Similarly, if your big play would be Devastator or Home One, you can also consider keeping Kuat Reinforcements or The Defense of Yavin 4 to make sure you can play them.
There are also some objectives that have abilities that help you dig through your deck a little faster which can slightly increase your chances of finding a good play.  For the DS, the main two are Fall of the Jedi and Reconnaissance Mission.  Counsel of the Sith can help with subsequent turns, and is a great objective, but doesn't help with the first turn itself (though Dark Precognition from that set would be helpful to have).  Both Fall of the Jedi and Recon Mission effectively allow you to dig one card deeper into your deck when looking for your big play.  That will have benefits throughout the game, but as far as the first turn is concerned having one of them will increase your odds of finding one card to 46% and either of 2 cards to 71%.  If you have both of them out, the chances increase to 48% and 74% respectively.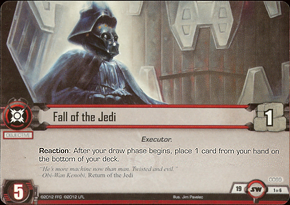 The LS currently has fewer options for increasing their turn 1 odds of finding a card.  Mission Briefing is the only option, but with only 1 copy it doesn't help with the odds of finding a good card first turn, it just gives you better information on what to discard.  It's still an excellent objective and I will almost always keep it, but the only way the LS can increase their chances of a power play on turn 1 via objective choice right now is to keep 2 copies of Mission Briefing.  This effectively allows the LS to dig 8 cards deep in the deck instead of the standard 7.  After accounting for the ability to mulligan, you'll end up with a 46% chance of finding at least one copy of a single card and a 71% chance of finding one of two cards (assuming each is x2 copies).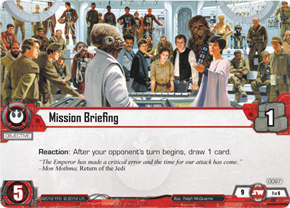 Mulligans
To keep or not to keep?  That is the question.  The statistics on taking a mulligan are not quite as nice as when deciding which objective sets to keep.  If your looking for one of your copies of a single card, the 6 cards from the mulligan will only help you 23% of the time.  With 2 cards (4 copies), it's better – 41% – but still not great.  The real question to ask yourself when looking at those first 6 cards (and note that cards like Recon Mission are not in effect yet when drawing your starting hand and deciding to mulligan, so it will only be 6 cards no matter what): what will my first turn be with this hand?  Thinking much beyond your first turn is probably a mistake, considering how quickly you'll cycle through cards in this game.  Sometimes you'll be able to consider some parts of turn 2, but that's really the limit.  If you're looking at your hand and you have no idea what it would do on your turn, don't hesitate: mulligan!  If you love your hand: keep it!  If it's a mediocre hand for your deck, but you might be able to do something: I will tend to mulligan.  Hopefully your deck is built so that truly bad hands are unlikely on the mulligan.  If you go from one mediocre hand to another, no harm done.  However, if you go from a mediocre hand to a good hand, you may have just completely changed the game with that decision.
So there you have it.  Despite Han's pleas to the contrary, the odds have been told.  I hope this helps you out in your early-game decision making and translates into an extra win or two along the way.  Until next time: May the Force be with you!