Cad Bane is a bad, bad man.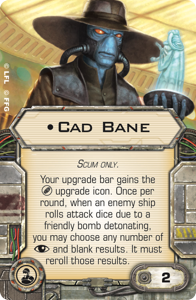 But how good is his crew card?
————————————————
SABINE WREN IS BETTER?
One of the first criticisms I've heard about Cad Bane from fellow players is that Cad Bane is just Sabine Wren for the S&V faction, except that Cad Bane doesn't help bomb damage output as much as Sabine Wren. This is a 100% true observation. Sabine's effect is +1 damage dealt, with the ability to place that extra 1 damage on a ship near the one that hit your bomb. Cad Bane's effect is smaller; whether you are using him to enhance a Proximity Mine, one roll from a Cluster Mine trio, or Bomblet damage.
However, I think Cad Bane is not worse than Sabine Wren. This is because he augments more capable bombers. Emon is more dangerous now that before, and Emon was already quite good. The Jumpmaster 5000 now has several killer bombing builds. Here are a few sample builds to try, to get the idea:
-100-
56 Emon w/ Dengar, Engine, HLC, Slave-1, Extra M, Cluster Mine
44 Sol Sixxa w/ Lone Wolf, Cad Bane, TLT, Proximity Mine, Bomblet Generator
-100-
53 Scout w/ Unhinged Astro, Ad Rush, Cad Bane, Exp Int, P One, Extra M, Prox Mine, Crane
47 Nym w/ AdvS, Genius, VI, Engine, TLT, Havoc, Bomblet Generator
-98-
36 Scout w/ R4-E1, Mindlink, Cad Bane, Extra M, Prox Mine, Crane
32 Fenn w/ Mindlink, Autothrusters, CDP
30 Teroch w/ Mindlink, Autothrusters, CDP
-100-
34 Thug w/ R4-E1, TLT, Engine, Bomb Loadout, Extra M, Prox Mine
30 K Pirate w/ AdvS, Genius, Havoc, Bomblet Generator
36 Scout w/ Ad Rush, Cad Bane, Exp Interface, Extra M, Prox Mine
Rebels do have a few capable bomber ships, to make strong use of Sabine — namely the K-wing, and their version of Nym. All of the other Rebel bombers are mainly gunships, and not particularly capable as bombers. S&V has much better bombers, positionally speaking. The number of highly capable bombers is also much higher. This makes Cad Bane easier to use in lists. Even though his damage output increase is slightly lower than Sabine Wren, I would say he might be better than Sabine and is at least as strong of a card for his faction. Having used both crew quite a bit now, I personally like him more.
————————————————
WHEN TO USE CAD BANE
Three bombs have their damage output buffed by Cad Bane:
— Proximity Mine
— Cluster Mine
— Bomblet Generator
My advice based on the math is as follows for all three of these bombs:
-1- Do not use Cad Bane to reroll only 1 result; save him for the next bomb roll.
-2- Trying to get lethal damage on a hurt ship is the only strong reason to break rule 1.
-3- Trying to damage a priority target is an acceptable reason to break rule 1.
————————————————
THE PROXIMITY MINE
I want to single out this bomb option, where I feel Cad Bane is stronger than Sabine.
Cad Bane damage output: 2.25 damage on average
0 — 2%
1 — 14% (1+, 98%)
2 — 42% (2+, 84%)
3 — 42%  (3+, 42%)
4 — 0%
Sabine damage output: 2.5 damage on average
0 — 0%
1 — 12.5%
2 — 37.5% (2+, 87.5%)
3 — 37.5% (3+, 50%)
4 — 12.5%
Sabine does do +0.25 damage on average, with a lower failure rate to deal any amount of needed damage. However, Proximity Mine can land critical damage. Cad Bane lets you reroll 0-3 dice, increasing your chances to land a crit. This is much more valuable as a game-winning effect than Sabine's marginally higher damage output. (I could also point to this effect with Bomblet Generator, but Sabine's ability to stack extra damage on a priority target with that bomb is significant to her compatibility with that bomb.)
The Proximity Mine has an advantage over the Cluster Mine, in how easy it is to land on an enemy ship. The token is large, and has reach away from your ship. It's damage is comparable (though inferior unless you crit) to 2 Cluster Mine tokens and superior to 1 Cluster Mine token, making it more ideal to catch small base ships like Fenn Rau with damage. Aces like Fenn often position themselves to minimize how many Cluster Mine tokens you can land.
————————————————
SHIPS THAT CAN BECOME (BETTER) BOMBERS
Cad Bane grants a bomb slot to the ship he is placed on, turning some S&V ships into bombers and making other weak bombers much stronger. Here is the list of ships/pilots where you might use Cad Bane to make a bomber, and what I personally think of Cad Bane there:
JUMPMASTER
Cards like R4-E1, Adrenaline Rush, Extra Muntitiona, Scavenger Crane, and Experimental Interface make the Jumpmaster an ideal bomber. It is able to deliver bombs to any number of locations on the board, on any turn. You cannot safely approach this ship or even circle around it without being bombed. The high durability of this ship is good for surviving as you drop bombs, and the large base is strong for blocking the ship you bombed so that you are dealing damage without taking any. I think this ship will be the most popular Cad Bane carrier by far.
FIRESPRAY
Do not add Cad Bane here. You can, but the only strong bomber is Emon. Emon needs Dengar crew to function well, since Firesprays are expensive — you'll also want your gun to be doing work, and it won't if you add Cad Bane here. Firespray doesn't need the extra bomb slot, since either title lets you carry multiple bombs already.
MIST HUNTER, HWK-290, LANCER, and HOUND'S TOOTH
Do not add Cad Bane here. With no torpedo slot, bombs are weak. Scavenger Crane is not strong enough by itself. There are no strong bomber pilots here anyway, for any of these ships.
QUADJUMPER
This ship already has a bomb slot, and has a bomber pilot (Zuvio). Since the gun on this ship is awful and the ship cost is low, using the crew slot for Cad Bane is fine… except you are running Cad Bane on a fragile ship, so I don't recommend it unless this is your only bomber in the list. Personally because of cost concerns, I see only one build that I would run:
24 Gunrunner w/ Cad Bane, Pattern Analyzer, Cloaking Device, Bomblet Generator
This looks like a useful ship to attack large formations, since many S&V pilots (like Asajj) can fall apart when facing a large number of enemy guns all swarming in together. Gunrunner serves as a rush-blocker, nuisance blocker (thanks to PA and the interesting dial), and bombing threat. Being able to stay cloaked or shift positions severely via decloak can help the ship stay on the board longer. And the cost is not terrible for all that you get. I see an interesting play where I might decloak, do a Sloop, Barrel Roll to block, then threaten both another block and a bomb drop vs that ship next turn. I could see adding the Tractor Array to this build if you have the points to spare.
SCURRG
The Havoc title is strong, allowing this ship to run Bomblet Generator + Genius. But Cad Bane makes sense on the Scurrg as well, if you want to run Cluster/Proximity Mines. The Scurgg has access to Extra Munitions and with Cad Bane has 3 bomb slots available, allowing for a multitude of builds. I will not discourage anyone from looking for a good build here, but I will say that I was not able to find one where I liked Cad Bane aboard the Scurgg. It is difficult to use all 3 bomb slots in a practical way, and like with Emon this ship really wants to run Dengar crew since it has a strong gun.
————————————————
What bomber builds have you been trying? What do you think of Cad Bane?